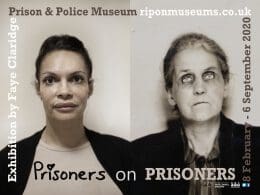 Prisoners On Prisoners Exhibition
An art installation by Faye Claridge sharing the experiences of current and historic female prisoners through audio, textile and photography. The exhibition will be in Cell 13 of the Prison & Police Museum.
Faye connects historic prison archives with inmates at HM Askham Grange, to explore similarities and differences in their lives and prison experiences. Through prison workshops for participants to 'adopt' a prisoner from the museum's Edwardian and Victorian criminal record books, Faye has made recordings of their comparisons and created portraits to link with archive mugshots. The artwork gives prisoners a way to share their perspectives and for prison museum visitors to consider the individual lived experience of justice systems.
01765 690799
info@riponmuseums.co.uk